Fresh, Healthy Catering in SE King County & Beyond.
Sunn Health Bar is the perfect healthy, fun catering option for your event or meeting. You can feel good about serving your guests whole, fresh food, sourced with integrity and respect for producers. And your guests will appreciate the delicious flavors.
You bring your people, we'll bring the fresh eats.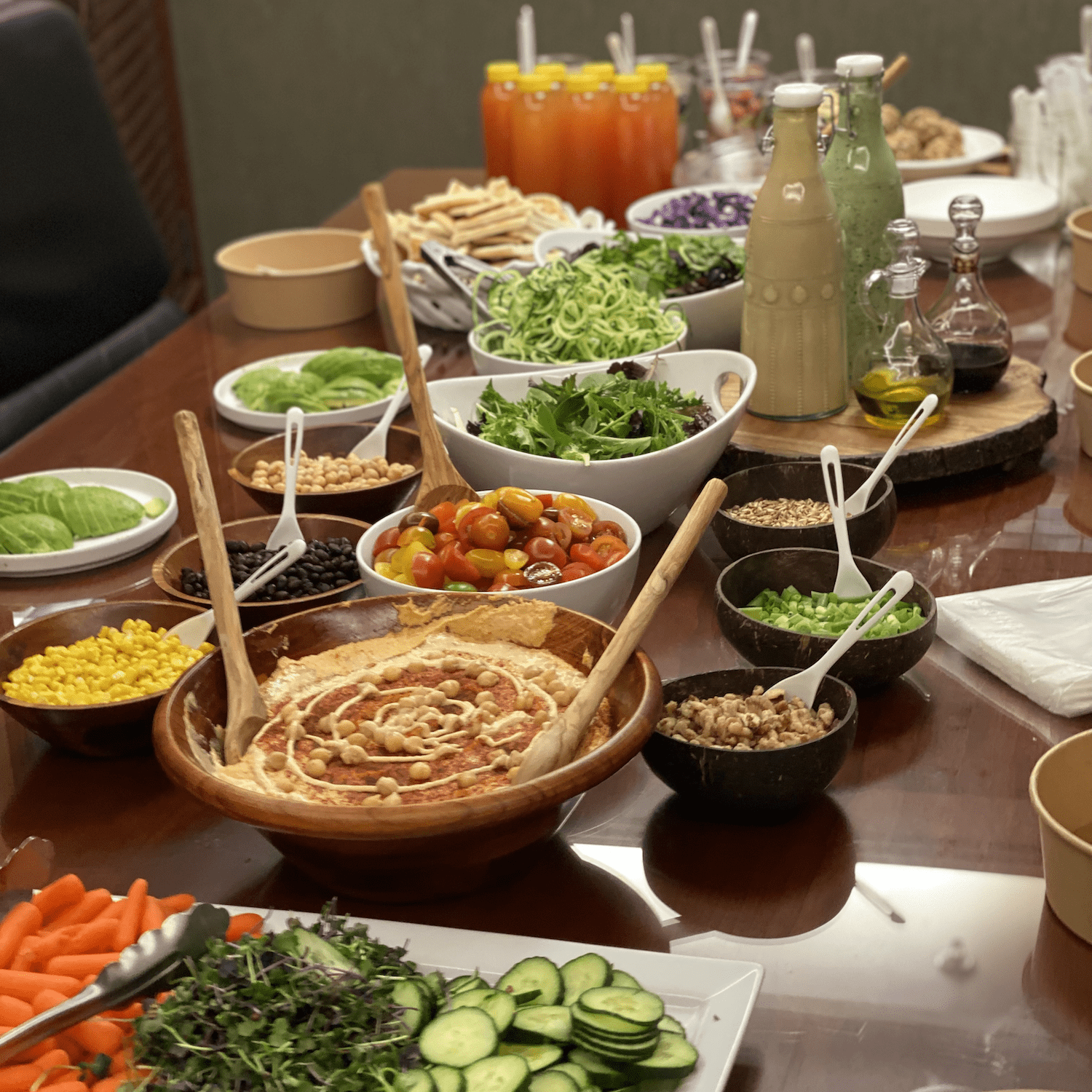 Finally, delicious food that everyone can eat! Our full menu of fresh, healthy foods, including vegan-friendly and gluten-free options, is available for catering orders. Smoothies & smoothie bowls are available with special circumstances.
Have you dreamed up a special concoction? We love to try new flavors too! Contact us and we'll see how we can make your vision come to life with healthy catering for your event.
Rainbow Hummus Sandwich Bar
Server(s), Plates & Cutlery, Beverages
3 Easy Steps to Stress-Free Catering
We'll work with you to plan a custom menu for your group.
Delivery with a smile and everything you need to feed a crowd.
You and your guests enjoy amazing deliciousness.
Important Catering Details
Minimum order: $100
Order ahead: For parties of 15 or more, 1 week notice required
Travel fee: $25 delivery fee for catering outside of a 5 mile radius. | Beyond 50 miles: $25 + $.65 per mile over 50 miles
We can accommodate food allergies and special requests such as gluten free and vegan. However, we use shared equipment to store, prepare, and serve them.
Contact us to discuss catering for your event!
"If you're looking for tasty healthy options this is a great place! We had salads that were delicious and they also have smoothies that look great."
Tina R.
"Yummmmmmm!!! My family was feeling under the weather & I came to get some feel good food for them...it was a huge hit!!! Everything we got was fresh and delicious!!!"
Shelly R. 
"Delicious food that's good for you, with a wide variety of super fresh options. Stopped in here to grab lunch and boy am I glad I did. You've got to try this place!"
Kristen H.